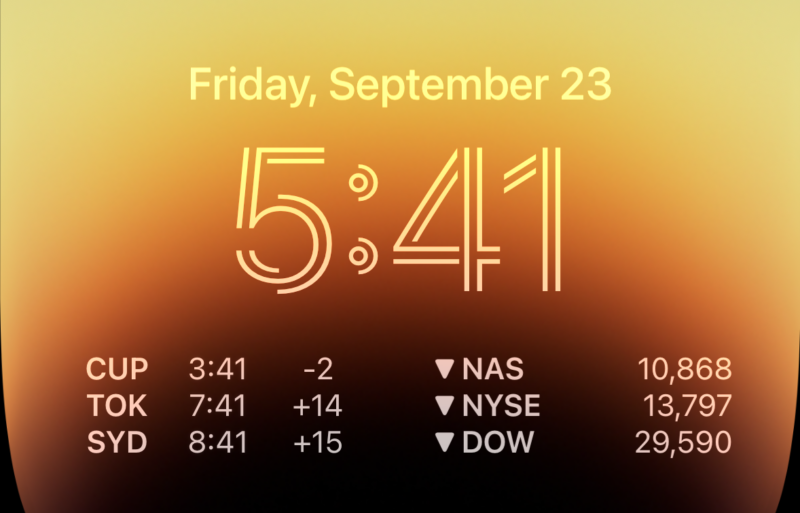 For the past couple of years, Apple's annual iOS updates have laser focused on one feature for an overhaul while making smaller tweaks to everything else. Last year, Focus was the, well, focus. The year before that, it was the home screen.
This time it's the lock screen. You can now change fonts, add widgets, customize the information displayed, and pick from a wider variety of wallpaper. Apple has also more deeply integrated the lock screen with the Focus modes that were fleshed out in iOS 15. And it has laid the groundwork for something more than just notifications that third-party apps can show you before you unlock your phone.
Given the increasingly iterative nature of iOS releases today—with many key features not arriving until months after the initial ship date of a new, whole-numbered version—we're moving to leaner initial iOS reviews, with updates to come in additional articles over time. So today we're going to look at the main new feature of iOS 16, but we'll touch on a couple of other key features and changes, too.
The lock screen
While iOS 16 touches most aspects of using the iPhone in a variety of small ways, it is very much "the lock screen update." That makes sense: Apple makes a lot of noise about shipping features that integrate hardware and software, and the iPhone 14 Pro's new always-on display drives this emphasis on the lock screen.
But there's plenty here for users of other iPhone models that lack that always-on feature. Following up last year's emphasis on Focus modes, and the previous year's on home screen customization, this is the most significant move Apple has made on the customization front with the iPhone in, well, pretty much ever.
I know what you're going to say: aren't these all features that have been part of Android for basically an eternity now?
Yep, you're right—mostly. In typical Apple fashion, there are some flourishes here that Android doesn't touch, but as for functionality, this is mostly yesterday's news for Android diehards. But what was already a win for Android users is largely a win for iOS users, too.
It's easy to see the influence of the Apple Watch on this update—the new widgets behave like complications, and the new lock screen acts like a Watch face. That sentence right there tells you just about everything you need to know about the new lock screen. Picture the Apple Watch and all the customizations, features, and limitations the Watch faces offer. Now make all that phone-sized. There you go, that's the new iOS lock screen.
This is the picker you get when you long-press on your lock screen.


Samuel Axon

You can swipe up to delete existing lock screens.
To start playing with these customizations, you just long-press your finger on the lock screen. This brings you to an interface with horizontally scrolling cards, each one representing one of your custom screens.
At the bottom, there are three important buttons. You can tap "Focus" to…


Read More: iOS 16 review: Customization unlocked