Joan Laporta has always followed Johan Cruyff. Growing up, he cut his hair like Cruyff; in his first spell as president at Barcelona the Dutchman who changed the club and the game like no one else was his advisor, an ideologue and spiritual leader.
And now, in Laporta's second spell, he still is, even after his passing. "I always have Johan with me because of all he taught; deep down he's still guiding us," Laporta says.
Cruyff's son, Jordi, is the club's sporting director, and there is a recurring question that those touched by Cruyff ask often, especially in moments of uncertainty: what would Johan say?
One of Cruyff's most famous maxims was "the money on the pitch, not in the bank". As it turned out, that advice has not proven simple. Last Sunday 83,021 people packed the Camp Nou for the Gamper trophy, Barcelona's traditional presentation game, and watched a hugely impressive demolition of Pumas, optimism flooding back. It was a first, exciting glimpse of a new era and new signings: Robert Lewandowski, Raphinha, Franck Kessié and Andreas Christensen and Jules Koundé. Six days on there were fears that when the season starts against Rayo Vallecano tonight, they wouldn't get a second. In the end, only Koundé will not be there.
Including variables Lewandowski cost Barcelona €50m. Koundé's cost could rise to €62.5m and Raphinha's total fee should reach around €70m.
There was also the re-signing of Ousmane Dembélé on €16m plus variables per season, a fortnight after he had become a free agent and six months after being told to leave.
This summer no one has spent more than Barcelona and they continue to pursue other signings, including a right-back, Marcos Alonso and Bernardo Silva. All of which poses a question: how?
How could a club €1.3bn in debt, whose salary limit was set at minus €144m in March and returned losses of over €400m last year, a club described by its own directors as "clinically dead" and then "in intensive care", field a team like this?
The short answer is: they couldn't, not until less than 24 hours before their opening game of the season. And even then, Koundé was still waiting to be included as Barcelona seek to complete their bid to make sufficient cuts by reducing salaries or moving players out, or bring in enough money to comply fully with La Liga's financial fair play criteria and register all their players. An automated system that is preventative rather than punitive, far from Barcelona being allowed to get away with doing whatever they want, as the ill-informed complaint has it – remember Lionel Messi? – La Liga has the strictest control in Europe. Based on income and outgoings, a limite salarial is set by the league that defines what a club can spend on its playing staff, across transfers, salaries and amortisations and, if it does not comply, it simply cannot register on the system.
That explains in large part the way they have moved over the last two months and why, on Friday night, against the clock, they had managed to register Lewandowski, Christensen, Raphinha, Kessié, Dembélé and Sergi Roberto but not yet Kounde, providing a portrait of the difficulties they face and the risk they take, how fine the margins are as Laporta tries to kick start what he refers to as a virtuous cycle, pulling Barcelona from thei virtuous cycle he inherited.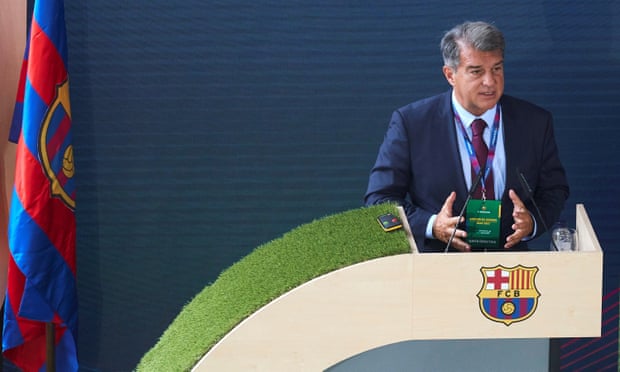 Others are less convinced, concerned at the consequences, doubtful that this can really be a solution long term or angry at what they see as the lack of them. Earlier in the summer, Julian Nagelsmann, Bayern Munich's head coach, insisted Barcelona were the "only club in the world that have no money but then buy all the players they want. It's a bit strange, a bit crazy. I don't know how they do it."
Here is how, although whether it is a good idea or is being applied in the…


Read More: Barcelona's race against time amid desperate grasp at short-term levers |