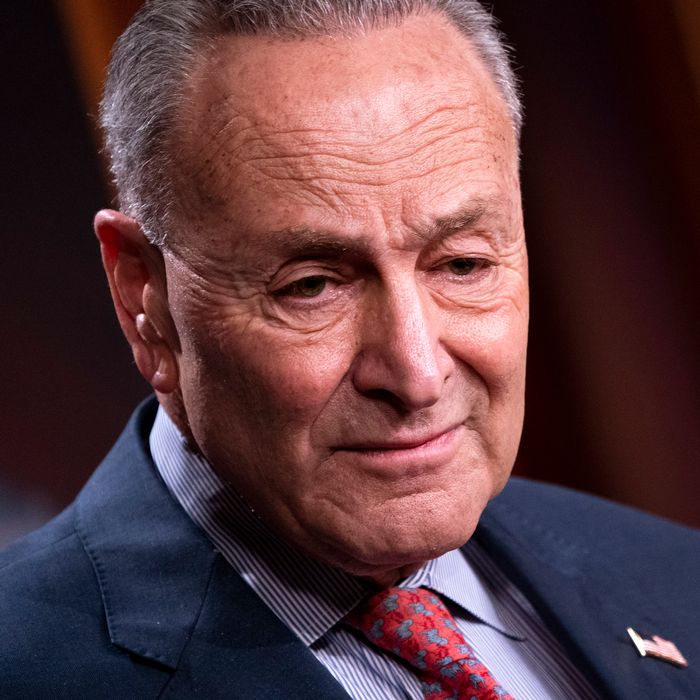 While we're young, Chuck.
Photo: Kevin Dietsch-Pool/Getty Images
Joe Biden isn't going to have an "FDR-size presidency."
Or, at least, the odds that Biden will fundamentally transform the role of the state in the U.S. economy, more than double America's union membership rate, lead the U.S. to victory in a world war, reinforce residential segregation, put tens of thousands of U.S. citizens into internment camps on the basis of their ethnicity, or enact similarly epochal changes to American life over the course of 12 years in office are very low. And his prospects for equaling LBJ's feats of welfare-state expansion, civil-rights promotion, and crimes against humanity are similarly dim.
But size isn't everything. And Scranton Joe has a real shot at assembling the most progressive domestic legacy of any president who didn't put Americans in concentration camps or incinerate foreign civilians by the hundreds of thousands.
Which is kind of remarkable. As I noted last week, once it became clear that Democrats would have only a bare majority in the U.S. Senate — and thus that a moderate from a deep-red state would have veto power over the party's agenda — most observers assumed Biden would need to shelve his campaign platform in favor of bipartisan half-measures.
But the difference between a 49-member Senate Democratic Caucus and a 50-member one has proven far larger than anticipated. The Democrats' triumph in the Georgia runoffs didn't merely secure Biden the power to appoint a Cabinet without Mitch McConnell's permission; it cleared the way for a $1.9 trillion stimulus package that will cut child poverty in half, deliver thousands of dollars to every non-rich family in the country, rescue union pension plans, transform state-level fiscal politics, turbocharge economic growth, and potentially remake the conventional wisdom about macroeconomic policy in the U.S. for a generation.
The American Rescue Plan's vast scope and high price tag did make some moderate Democrats nervous, but the American public's response to its passage has likely mitigated their concerns. A core tenet of contemporary political science — and one lesson of Congress members' own recent experience — is that the American people do not take kindly to sweeping policy change. Public opinion tends to be "thermostatic," growing more liberal when a Republican president enacts right-wing reforms and more conservative when a Democratic president enacts left-wing policies. A large majority of Americans believed the government had a responsibility to make sure everyone had health-care coverage until Barack Obama tried to honor that responsibility in 2009. And when Donald Trump attempted to undo his Democratic predecessor's handiwork, Americans decided that socialized medicine was great again.
But Biden's COVID-relief bill has triggered no such backlash. Recent polls from CBS News and Morning Consult found that more than 70 percent of Americans approve of the legislation. In the latter survey, 44 percent of Republican voters endorsed the law, despite the congressional GOP voting unanimously against it. Some centrist Democrats wanted Biden to settle for a smaller stimulus for the sake of securing bipartisan buy-in. But the American Rescue Plan's extraordinary popularity…


Read More: Democrats Need to Move Fast and Fix Things