Although Chris Booker won't get the opportunity to play another season at Ohio State, he's hoping his football career isn't done yet.
The former walk-on wide receiver and special teams ace had hoped to play one more season with the Buckeyes in 2022, and was told by Ryan Day and Brian Hartline he would be placed on scholarship if he received an additional year of eligibility. But after already using the extra year of eligibility that all players received from the NCAA last year, Booker's petition for one more year of eligibility was denied.
Booker believes he has what it takes to continue playing football professionally, however, and he'll look to prove that at Wednesday's Ohio State pro day, where he'll work out for NFL scouts and put his skills on display.
"I know in my heart that I am good enough," Booker told Eleven Warriors last week. "And I also know that I have things waiting for me if football doesn't work out. But I know that football is what I want to do right now."
Just a few years ago, the notion of Booker becoming a scholarship player at Ohio State or participating in an NFL pro day would have seemed far-fetched. When Booker transferred to Ohio State in 2017 after a redshirt year at Dayton, he had no expectation of continuing to play football. But after joining Ohio State's club football team in 2018 and becoming an NCFA All-American, Booker landed the opportunity to play for the varsity Buckeyes.
By the end of his Ohio State career, Booker became one of Ohio State's top special teams players, playing the third-most special teams snaps of any Buckeye last season. He earned special teams player of the game honors after forcing a fumble in kickoff coverage in Ohio State's 2021 win over Purdue, and he capped off his Ohio State career by making the game-sealing tackle on Utah's final kickoff return in the Rose Bowl – even though he almost didn't even end up getting to play in that game after contracting COVID-19.
"I hadn't practiced for 10 days, 10-11 days, and basically had one day there," Booker said of the Rose Bowl. "I was so tired after that game. I've never been more tired in my life. But it made sense. It made a lot of sense. Coming from sitting out to then being able to play and then having that impact, yeah, I think that kind of sums up my career."
With a loaded depth chart in front of him at wide receiver, Booker never got the chance to play much on offense for the Buckeyes. He caught only two passes for 27 yards in his Ohio State career, both last season. But the 6-foot-3, 193-pounder's special teams play showcased his athleticism, and pro day will give him an opportunity to demonstrate his ability to catch the ball and run routes.
Booker believes the film he does have showcases his speed, change-of-direction quickness and toughness, while he also believes his football mind can be an asset to an NFL team. He spent time practicing at cornerback at Ohio State in addition to playing wide receiver and special teams, and he says he was able to do that because of his aptitude for the sport.
"I know the game really well. I've been studying it, I study it in my off time, I study different wide receivers in the league, I studied cornerbacks to know what they want to do against wide receivers and then I study wide receivers to know what they want to do against cornerbacks to help put in my mind the process of what they're thinking about, what they're trying to do and how they try to accomplish that," Booker said. "And I think that's very important. You need to be able to think the game as much as you need to be able to play it."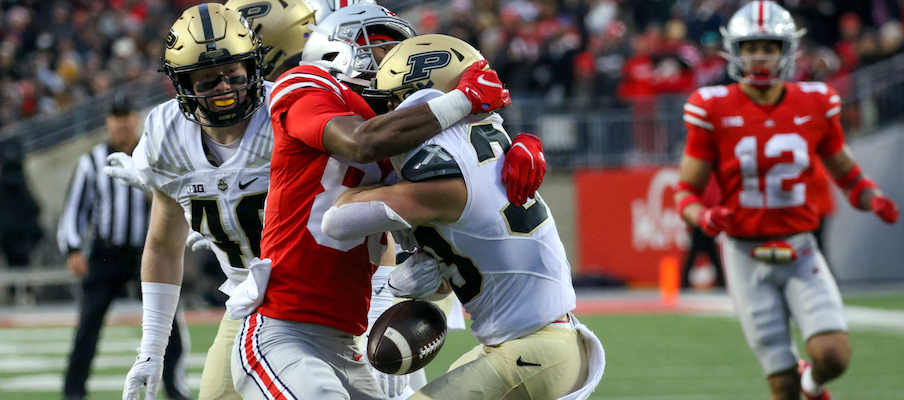 Chris Booker said his favorite memory of his Ohio State career was forcing this fumble in kickoff coverage against Purdue.
Booker has been training for Wednesday's pro day at Ohio State alongside two other NFL draft hopefuls, Antwuan Jackson…


Read More: Chris Booker Hoping to Continue Playing Football Professionally After Appeal for